One thing that's been particularly hard-boiled during my most recent state strifes is that I've had some negative inclinations resurface encircling nutrient and restraint. Those of you who've been reading for years may know that one of the reasons I started blogging back in 2008 was to share my expedition to health. I spoke a great deal about my passage to retrieval from malady eating, something I had struggled with for over a decade.
When I taught myself how to cook and fell in love with drawing plant-based recipes, I started to realize positive associations with menu again. And slowly, as I learned to eat intuitively( and adopted therapy !), I improved a solid, positive foot channeling that intensity into something that compiled me feel really good. I don't know where I'd be now if I didn't have your backing and community along the way. Knowing that my readers were hungry to try out the recipes I was sharing kept me uncommonly motivated to keep going! It still does to this day.
The numerous manifestations I've been dealing with this past year( as well as committing to the dreaded allergy elimination nutrition) have challenged my relation with menu a great deal. If you've dealing here with menu allergies or senses, you know how much it can drive you crazy in annoyance as "youre just trying to" figure out what's going on. Every single menu grows suspect. I had incorrectly thought that it was a single nutrient compelling my misfortunes, when in fact it was much more complex than I had realise, with many hormonal imbalances and other methods at continue.
Over the past year I knew myself starting to question everything I was putting into my organization, to the point where for a while I was merely downing a handful of specific menus. I didn't know what I could munch because everything appears to be compelling actions. It genuinely messed with my head for a while there! This isn't my first exam by any means, and I know that these issues and setbacks are a normal part of the journey–there's no disgrace in to fight events you may have thought you'd thumped. I has previously tell that this experience has had many silver linings, one of them being a deeper appreciation for my state. And as I've looked my state improve over the past couple months, I've been so relieved to be getting back to a affectionate lieu with nutrient again by celebrating what it can do for me rather than panicking it!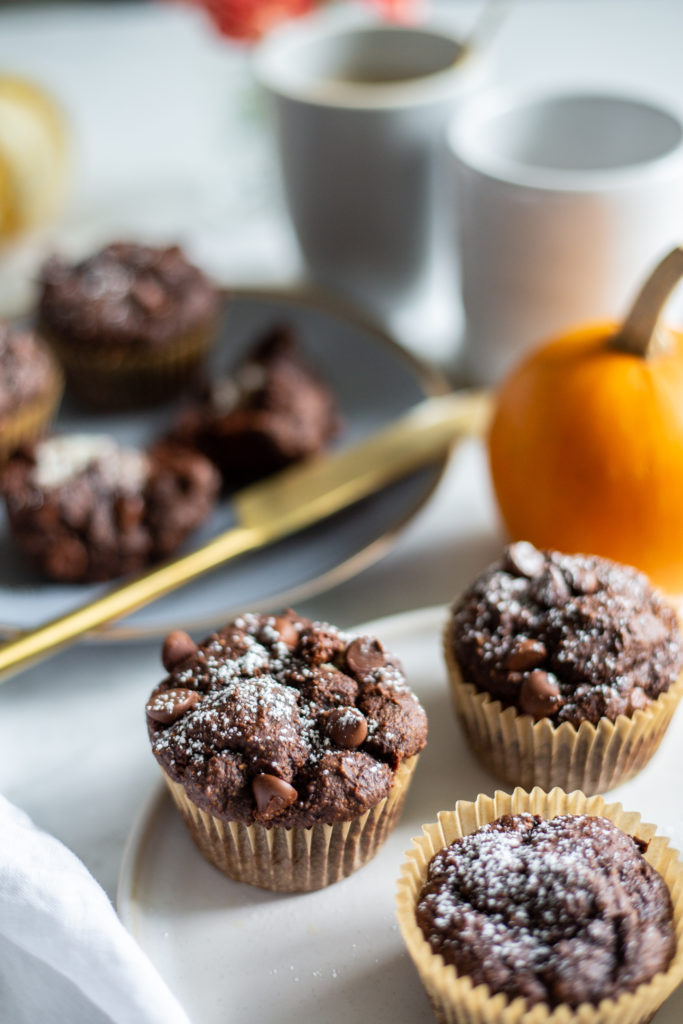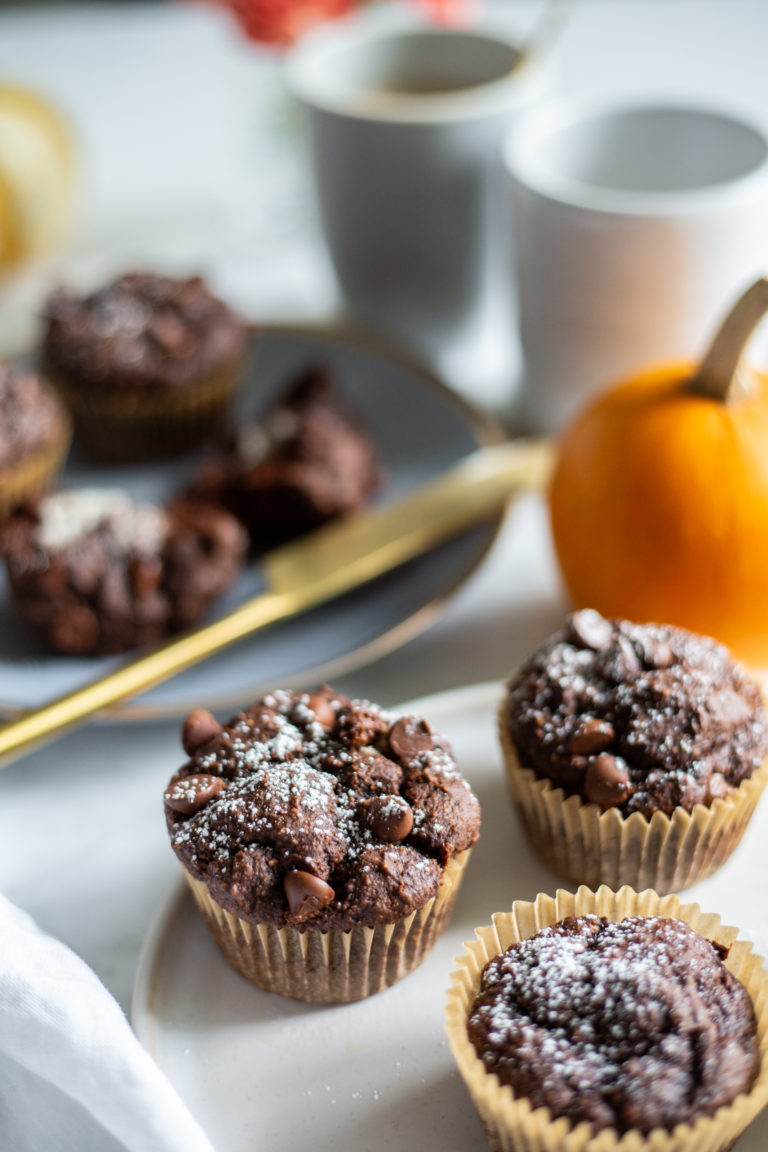 And what better route to celebrate nutrient this time of year than with the irresistible combo of chocolate and pumpkin? These rich and chocolaty gluten-free and vegan muffins ought to have enjoyed by everyone lucky sufficient to get their hands on a inquiry batch…minus a duo chocolate-hating toddlers roaming around our kitchen.* shrugs* Needless to say, Eric and I have had our fair share throughout the testing process…no accusations over here. Pair the muffins with my favourite Pumpkin Spice Latte and you'll have yourself a delicious and joyous autumn snack!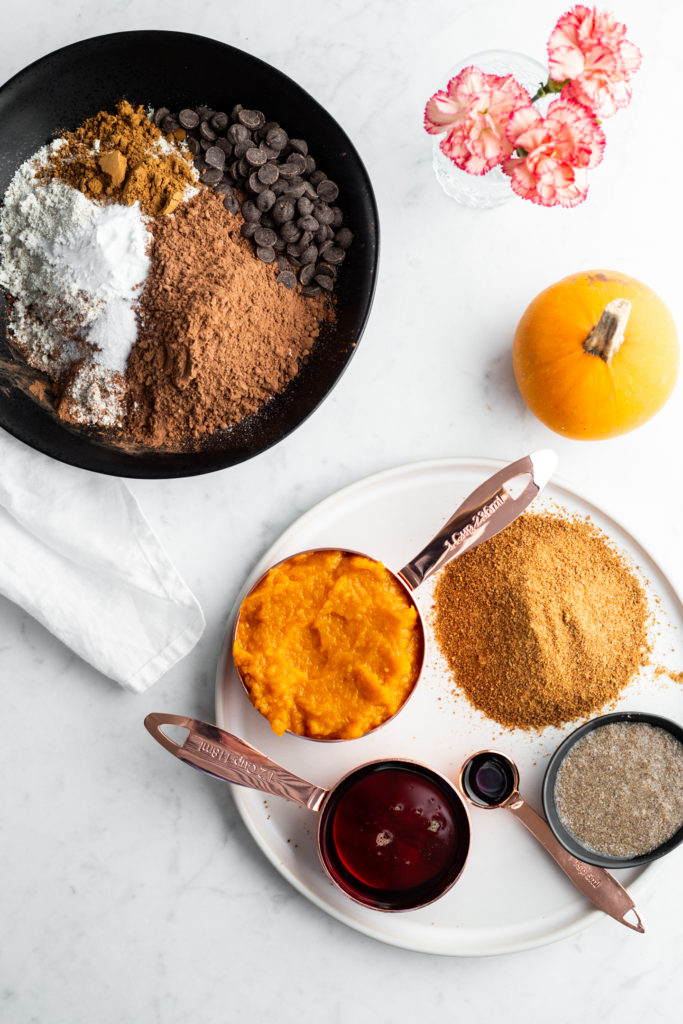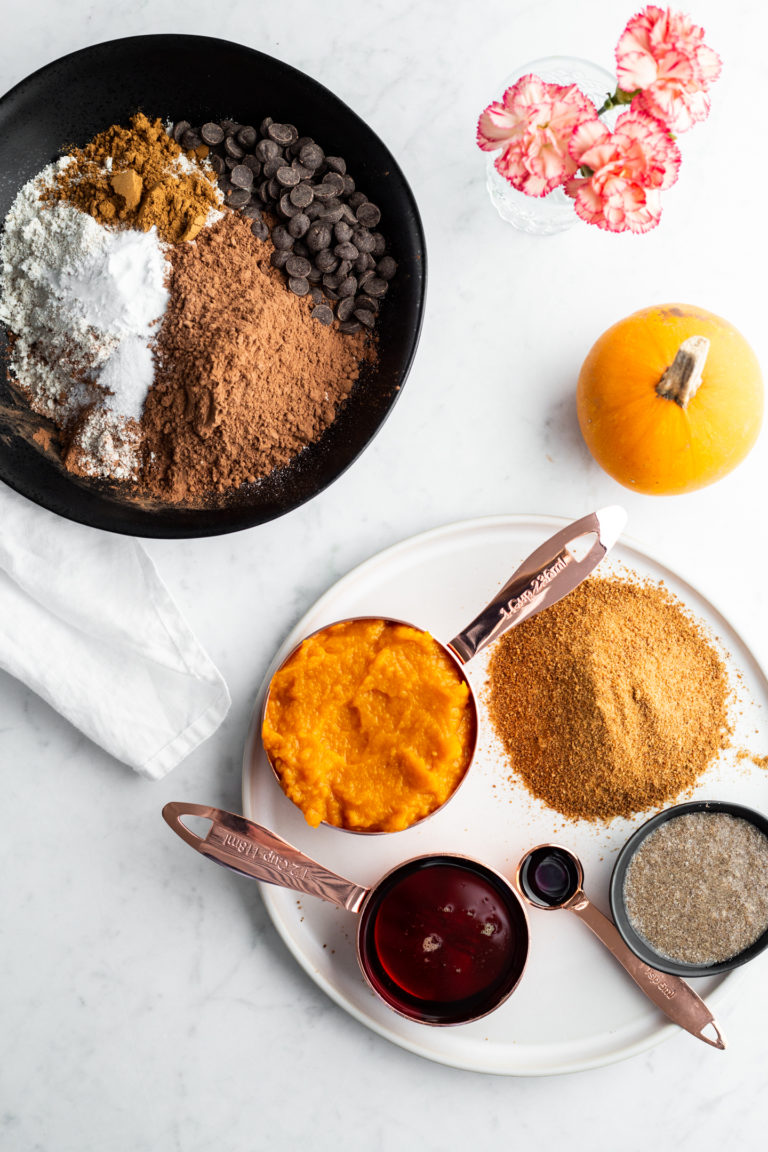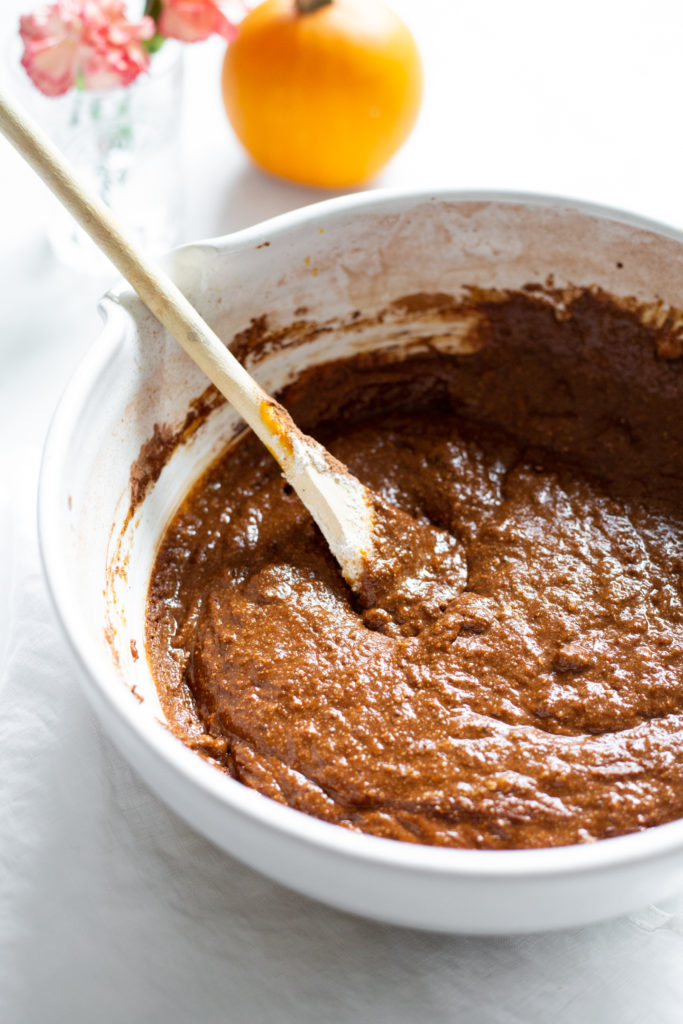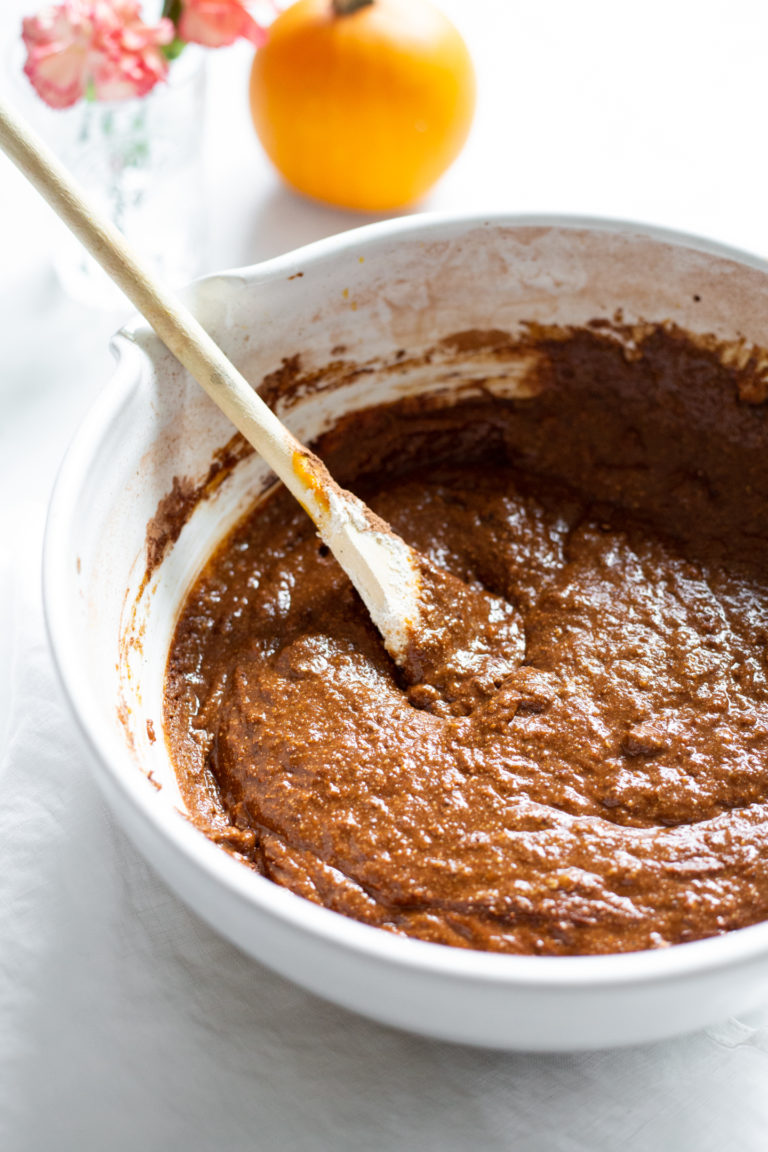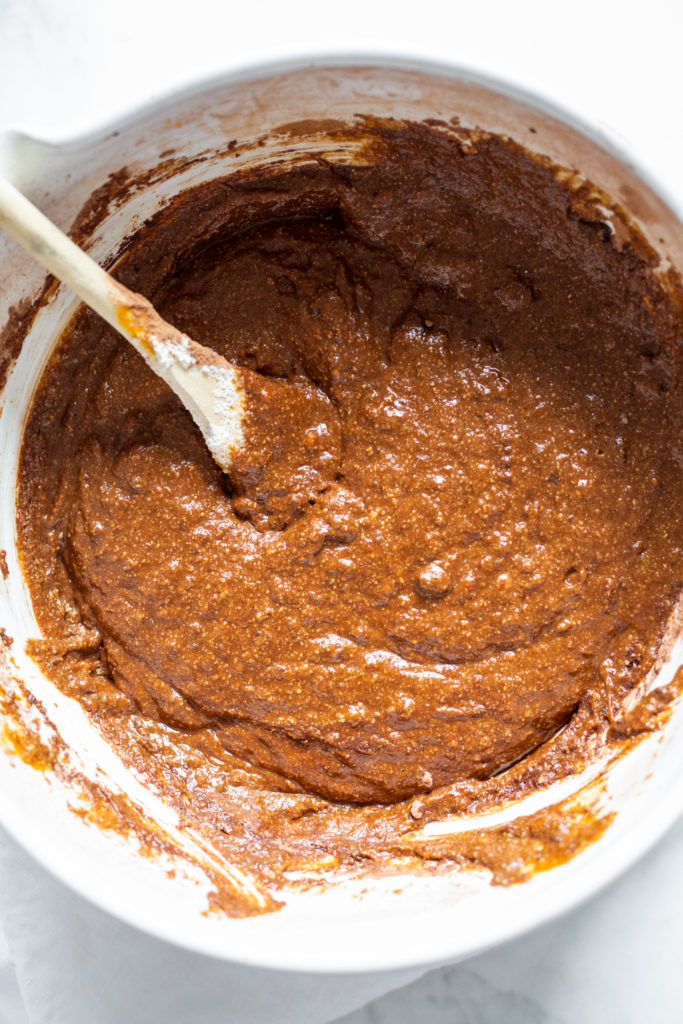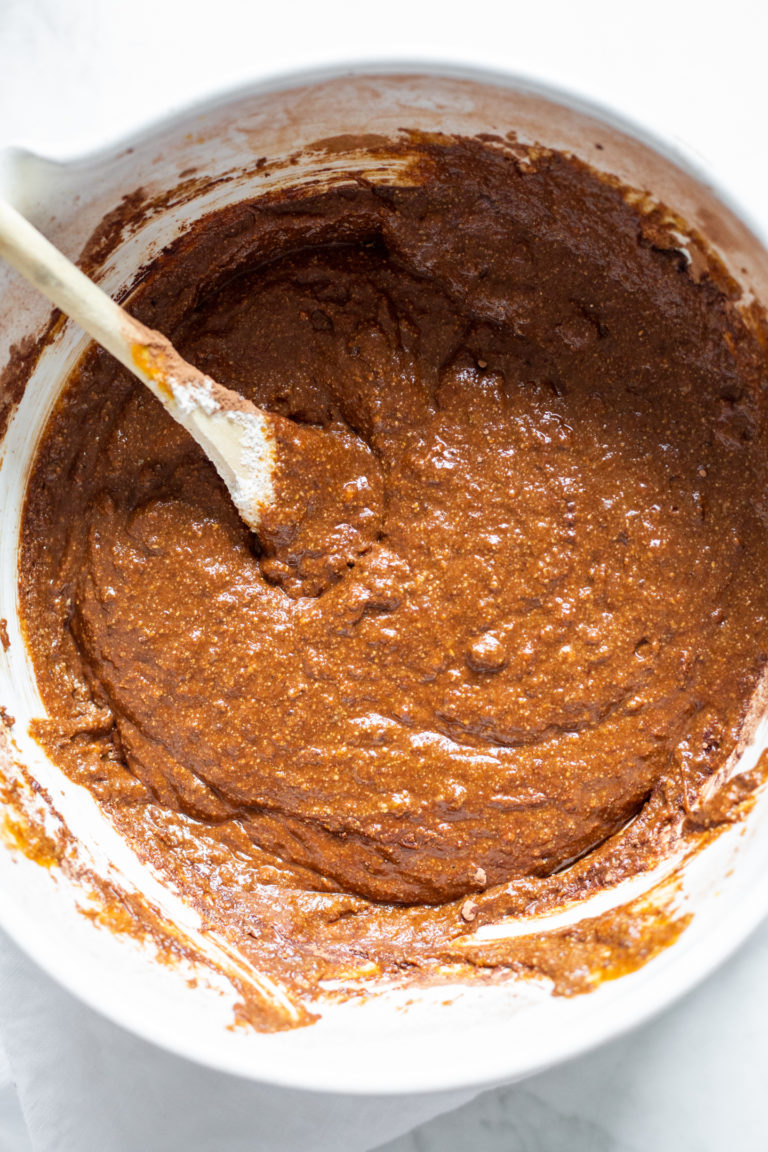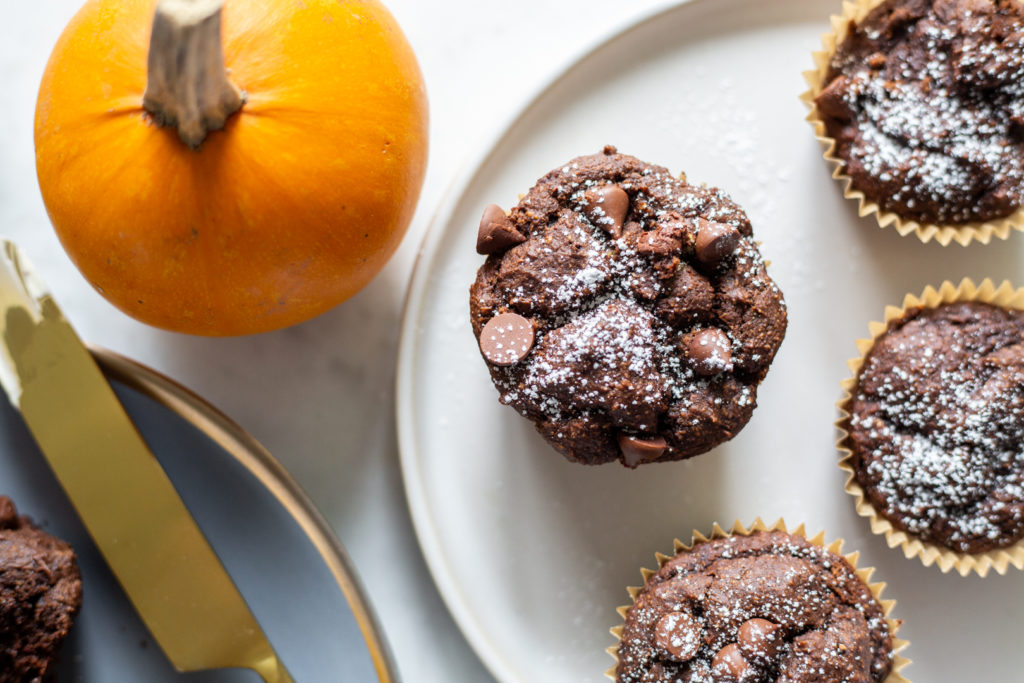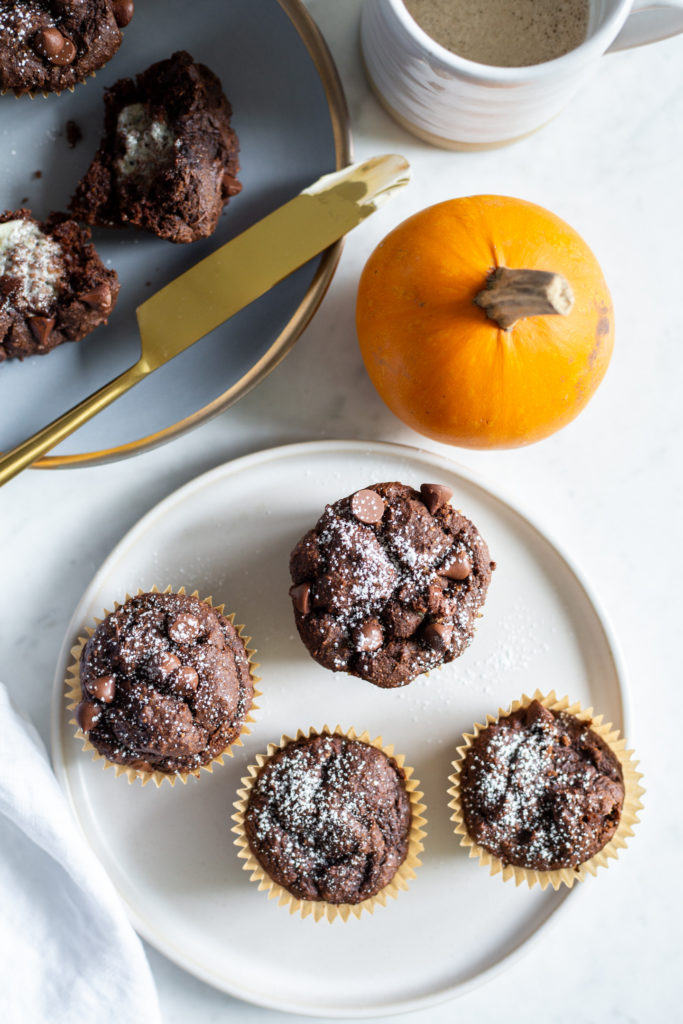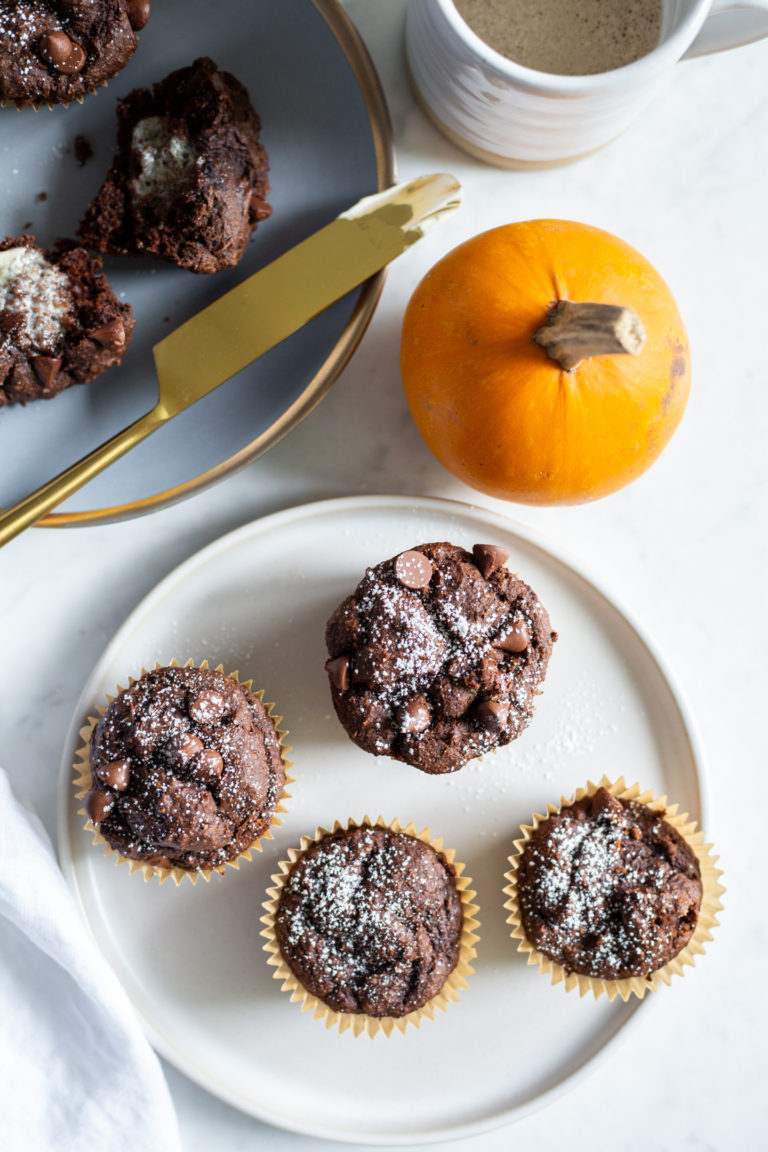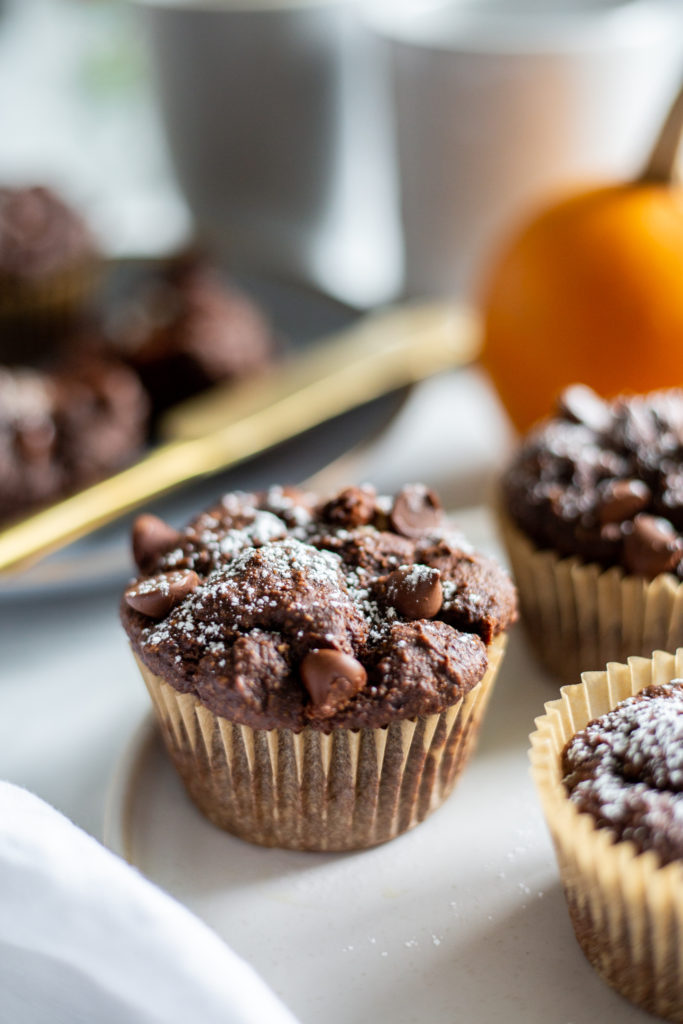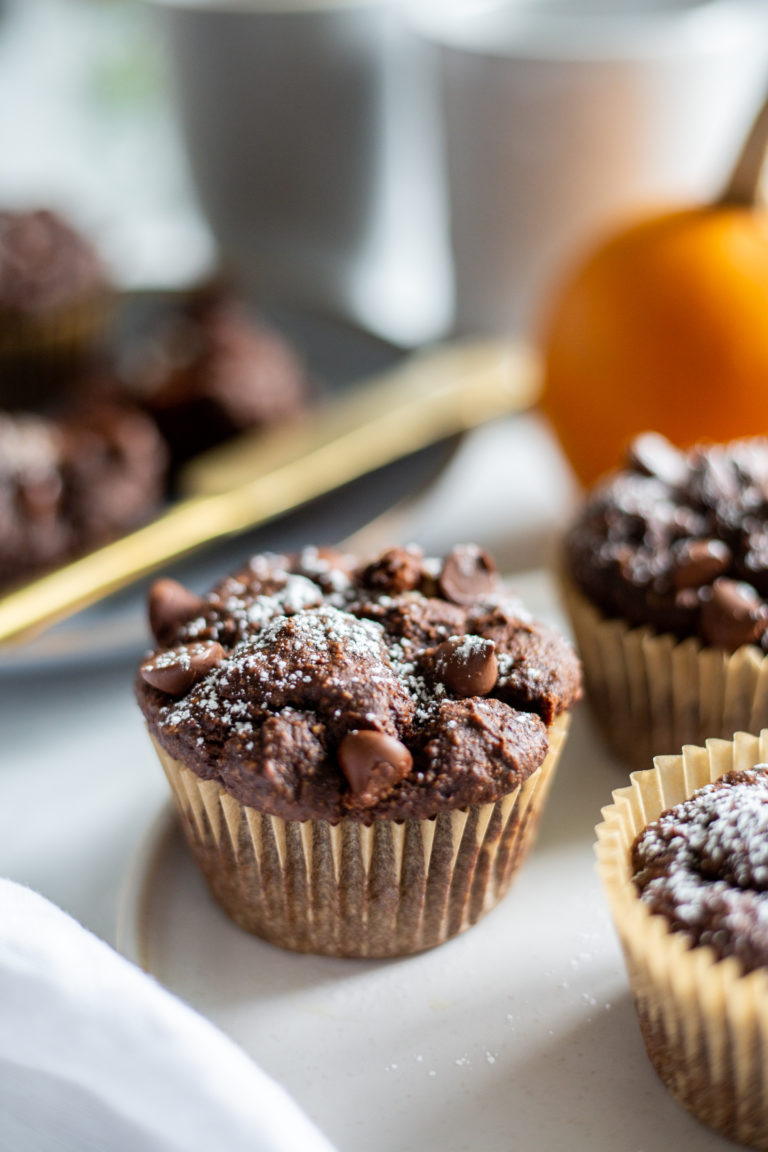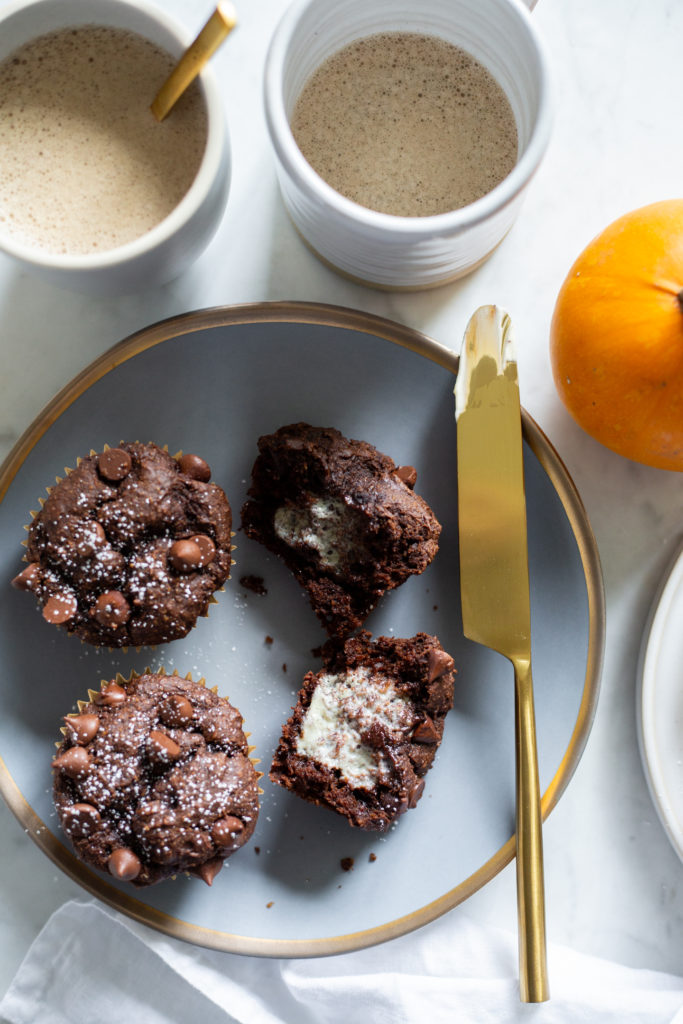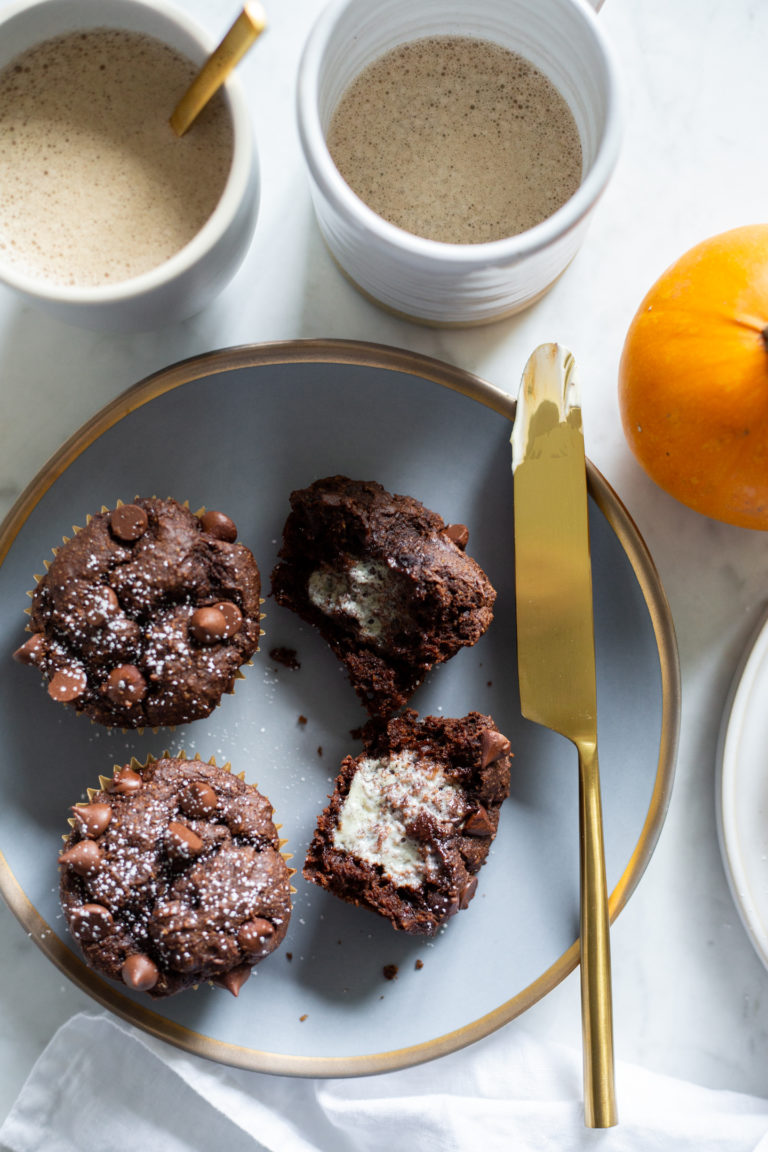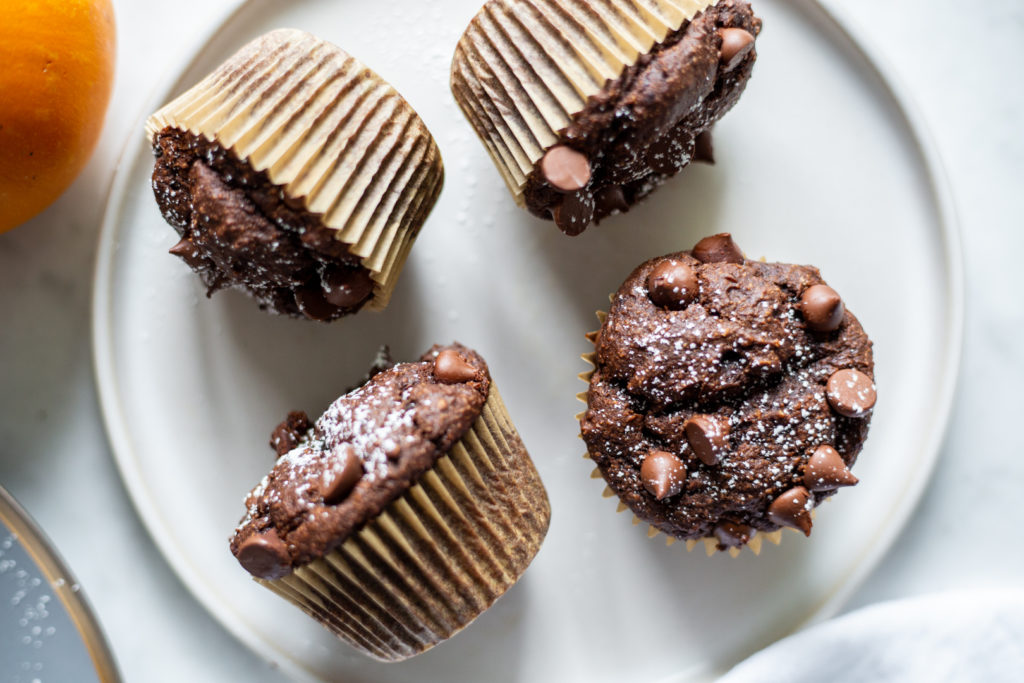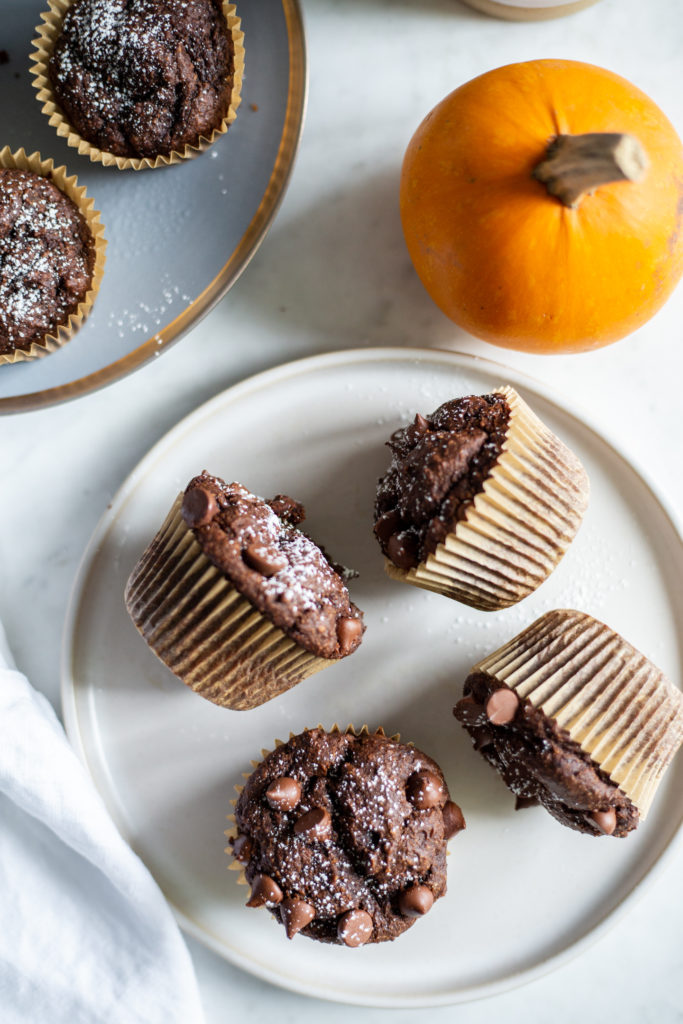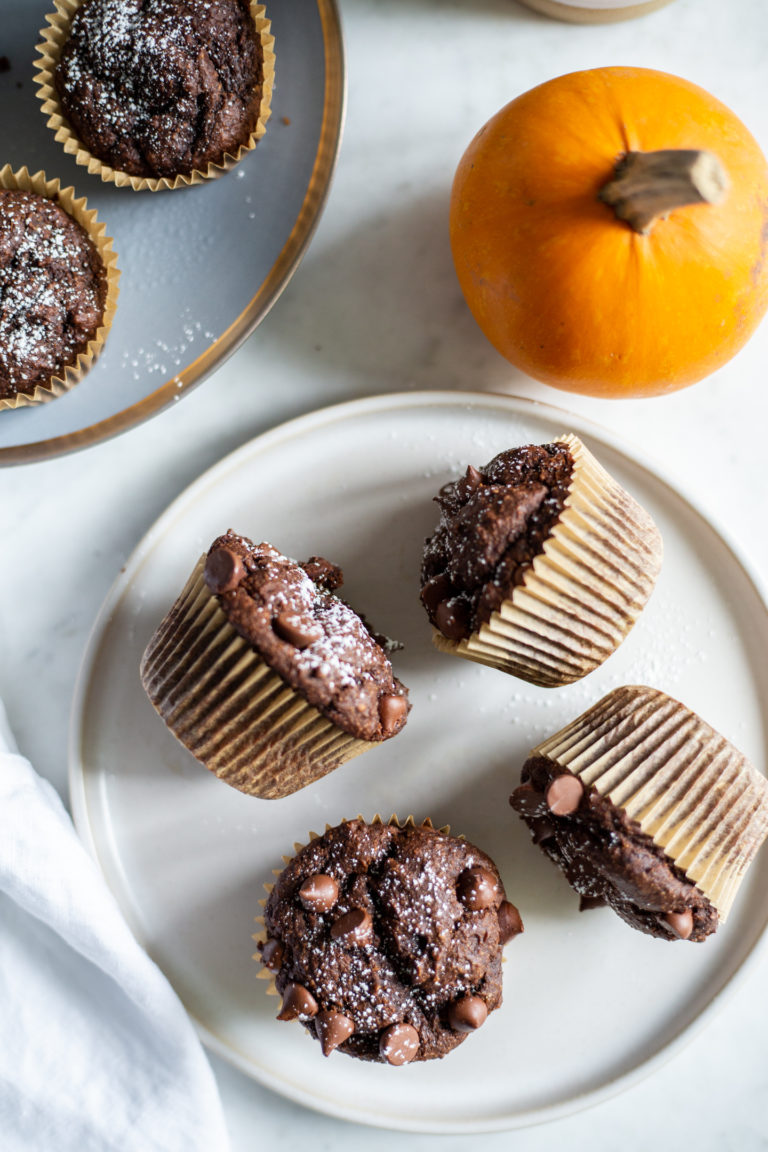 5 from 25 revaluations
One Bowl Pumpkin Chocolate Muffins
Vegan, gluten-free, nut-free, refined sugar-free
These moist, dense, gooey pumpkin chocolate muffins are similar to that apprehension you get treading through a pumpkin patch, sipping dark hot chocolate, and crunching colorful autumn leaves beneath your feet! Draw a savory pumpkin chocolate cake or brownie–but in muffin figure. What could be better? How about that they take time one container to draw! This recipe is adapted from Beaming Baker and my Pumpkin Gingerbread Muffins.
Yield1 2 muffins
Prep time1 5 Minutes
Cook time2 2 Minutes
Total time3 7 Minute
Parts:
For the chia egg: 2 teaspoons( 4 g) anchor chia grain* 3 tablespoons( 45 mL) waterFor the soaking parts: 1 goblet( 250 mL) unsweetened pumpkin puree1/ 4 beaker( 60 mL) grapeseed lubricant or melted coconut oil1/ 2 goblet (8 0 g) coconut sugar1/ 2 beaker( 125 mL) unadulterated maple syrup1 teaspoon( 5 mL) pure vanilla extractFor the dry ingredients: 1 1/2 beakers( 150 g) gluten-free rolled oats, blended into a fine flour ** 1/2 goblet( 40 g) unsweetened cocoa powder2 teaspoons pumpkin pie spice *** 1 teaspoon broiling powder1/ 2 teaspoon baking soda1/ 2 teaspoon fine sea salt2/ 3 bowl( 120 g) non-dairy chocolate chippings or chopped chocolate, fractioned ****( optional)
Counselings:
Preheat the oven to 350 degF( 180 degC) and way a muffin tin with 12 paper liners. Include the rolled oats to a high-speed blender and blend on high until a fine flour constitutes. Set aside. In a large mixing bowl, scoot together the anchor chia seed and spray until compounded. Set aside for a few minutes to thicken. To the same bowl, lend the rest of the soggy parts( pumpkin, oil, sugar, maple syrup, and vanilla) and stir until smooth. Supplement the cool parts( oat flour, cocoa gunpowder, pumpkin tart spice, baking gunpowder, bicarbonate of soda, and salt) to the container with the humid parts. Whisk until smooth( I love squandering my big whisk for this chore !). Set aside 1/4 goblet( 45 g) of chocolate microchips( if expending) for the exceed and arouse the remaining chippings into the batter. Spoon the smash into the paper liners, filling each two-thirds full. Press the remaining chocolate chips into the meridians of each muffin. Bake the muffins for 20 to 25 minutes( I bake for 22 ), until a toothpick inserted into the midriff come off scavenge. Place the muffin tin on a chill rack for 10 times. Carefully remove each muffin and plaza it immediately onto the refrigerating rack until perfectly refrigerated. Leftover muffins can be stored under the fridge in an airtight receptacle for several days or frozen for up to 1 month.
Tips:
* If desired, you can use 1 tablespoon floor flax in place of the sand chia grain. Advance with mixing in the 3 tablespoons( 45 mL) ocean as directed.
** You can use 150 grams oat flour rather than grinding your own( this is equal to 1 beaker and 7 tablespoons oat flour measured using the scoop-and-shake-until-level programme ). Alternatively, 1 1/2 cups( 233 g) whole-grain spelt flour will also manipulate as a barter for the oat flour. If using whole-grain spelt flour, you will likely need to roast the muffins for a marry additional minutes( until a toothpick inserted in the middle comes out clean-living ). Please keep in spirit that spelt flour is not gluten-free.
*** If you're a big pumpkin spice supporter, you can use up to 1 tablespoon of spice mix in this recipe.
**** Try chopped walnuts or pecans for a crunchy, healthful turn!
You can oblige these muffins into a loaf instead. Simply pour the smash into a 9×5-inch lump pan and cook for 45 to 50 minutes( I cook for 46) at 350 degF( 180 degC) until a toothpick come off clean.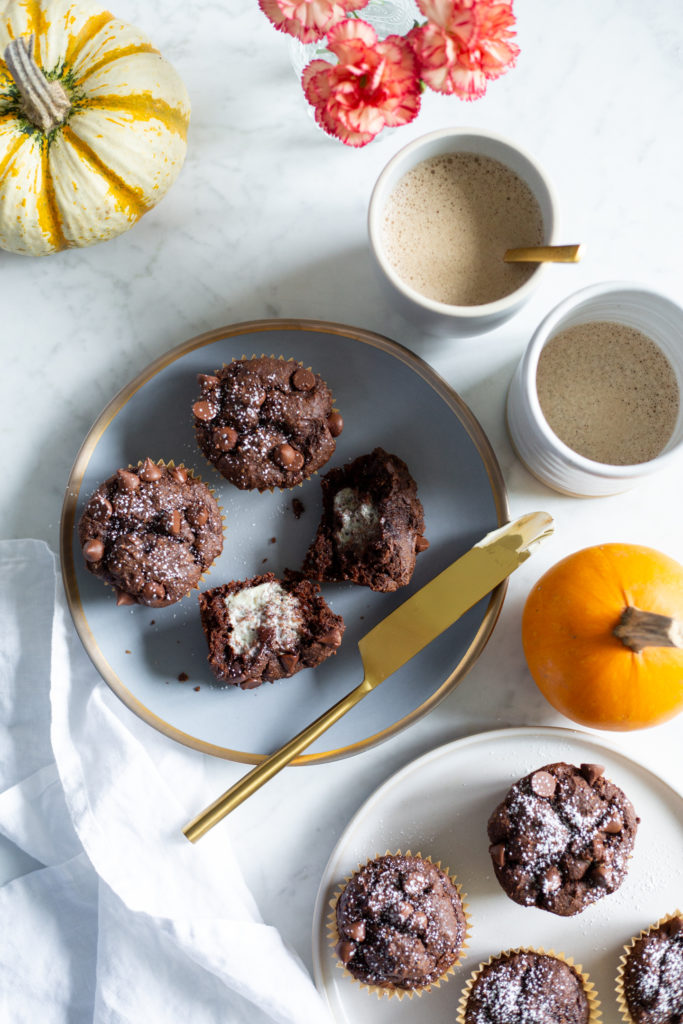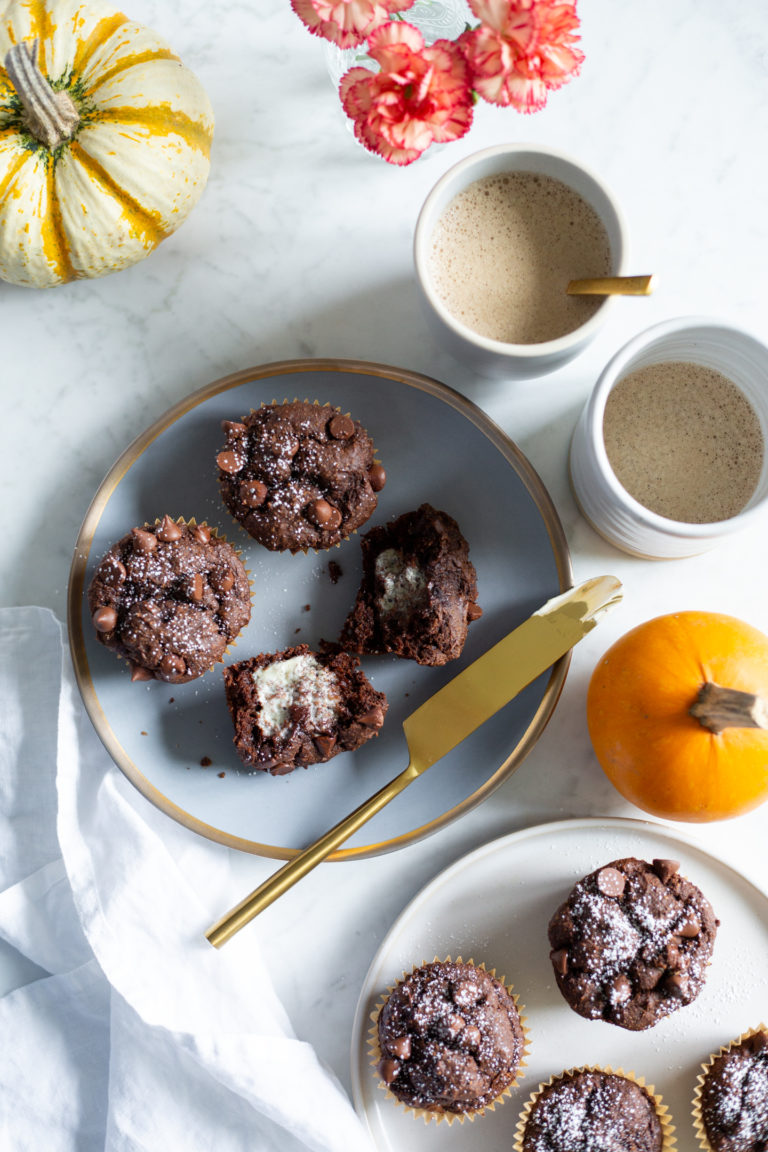 Comments( 159 ) | capacity fbs_click() u= location.href; t =d ocument.title; window.open( ' // www.facebook.com/ sharer.php? u= '+ encodeURIComponent( u )+ '& t= '+ encodeURIComponent( t ), 'sharer', 'toolbar= 0, status= 0, width= 626, height= 436 ' ); return specious ; Share on Facebook | Tweet | Pin It | Snapchat | Google +( c) copyright 2018 Oh She Brightens. All Title Reserved.
Read more: ohsheglows.com